STVORENO. TESTIRANO. ODOBRENO U SMASHBOX STUDIO L.A.
»Sve najbolje dolazi iz foto studija. To je srž naše kreativnosti i energije ", kaže suosnivač brenda  i fotograf Davis Factor. Ujedno se šali da je njegova ljubav prema ljepoti i šminci dio DNA. Jer uistinu, on je praunuk Max Factora, osnivača prve profesionalne šminke na svijetu za potrebe filma. 
1990. godine Davis je zajedno sa svojim bratom Deanom osnovao Smashbox studio u L.A.-u, koji je ubrzo postao najpopularnijji foto studio u Los Angelesu, gdje stvarane fotografije za potrebe vodećih modnih časopisa, raznih kampanja brendova i covere albuma poznatih glazbenih zvijezda. 

Slika 1: Davis Factor, fotograf i suosnivač brenda Smashbox.
Rad s makeup-om u teškim uvijetima studija (jaka rasvjeta, vrućina itd) te konstantno napredovanje tehnologije (slike visoke rezolucije) zbog kojih se na slikama dalo lako razaznati suha koža, pore, bore te promjena boje pudera. Sve to ih je natjeralo  da razmisle o stvaranju make-upa koji će biti savršen, dugotrajan i otporan – od scene do ulice.
 »U fotografskim studijima izuzetno je važno koristiti dugotrajan make up, budući da bilo kakav prekid snimanja zbog dodatnih korekcija utječe na tijek snimanja i energiju svih sudionika«, kaže Davis, koji je snimao zvijezde kao što su Cameron Diaz i Angelina Jolie. 
1996. lansiraju Smashbox kozmetiku koja je savršeno odgovarala čemu su težili. Besprijekoran make up koji pruža osjećaj udobnosti i njihova dugotrajnost tijekom snimanja – bez dodatnih korekcija.  
Radi se o dugotrajnim i kvalitetnim proizvodima za svakodnevni i profesionalni make up. 
Danas je Smashbox jedan od top selling brendova uz Anastasia Beverly Hills, Urban Decay i dr.
Vlada Haggerty "VladaMua" koju još i zovu "kraljica usana" je ukrajinska makeup artistica na Instagramu s 814,000 pratitelja koja radi nevjerojatne lip-art lookove. Možda ste čulo o njoj jer je u studenom optužila Kylie Jenner za krađu njenih ideja za lasniranje svoje linije za usne. Njen signature su luksuzne kreacije s kapljicama koje cure s usana i izrađuje najskuplji makeup za usne te je njena uloga u Smashbox Cosmetics »lip editor –in-chief« i sve što je vezano za usne.    
Za vas smo odabrali nekoliko top proizvoda ovog dugo očekivanog brenda u Hrvatskoj koji su ujedno ključ za postizanje besprijekornog i dugotrajnog izgleda šminke. 
Smashbox je najpoznatiji po svojim primerima, a najprodavaniji je  Photo Finish Primer koji se prodaje svake 1.8 sekunde u svijetu.
Studio Skin 14hour Wear Hydrating Foundation – tekući puder ugodan na koži tijekom cijelog dana te savršene postojanosti boje pod svim svjetlima. Modni urednici i make-up artisti odmah su uočili prednosti ovog poizvod zbog njegovog baršunastog završnog izgleda, zaglađene pore, linije i bore. 
Be Legendary Lipstick – izuzetno ugodne teksture, dugotrajan i pune boje. 
Smashbox make up za sad možete potražiti u Mueller parfumerijama u Zagrebu, Trg Bana Josipa Jelačića i u Splitu, City Centar One.
Slika 2: Photo Finish Foundation Primer – trenutno zaglađuje pore, linije i bore te produžuje trajnost pudera. Cijena: 30ml/289kn.
Slika 3: Intuitivno rumenilo za lice O-glow koje reagira u dodiru s kožom te ovisno o tonu vaše kože, boji u različite ružičaste nijanse. Must-have za lijeto jer je vodootporno. Cijena: 15ml/242kn.
Slika 4: Step by Step Contour Palette je komplet od tri nijanse koje su vam potrebne za savršeno konturiranje (mat highlighter,hladni konturing i brončani/topli) s priloženim kistom za konturiranje i how-to upute ovisno o obliku vašeg lica. Cijena: 389kn. Dostupno i u obliku    3 olovke za preciznije konturiranje.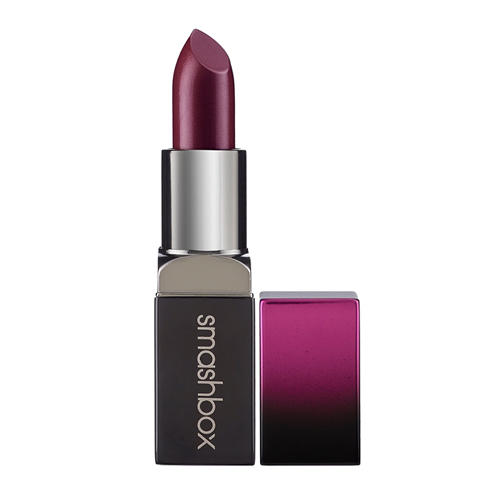 Slika 5: Be Legendary lipstick linija ruževa za usne, dugotrajnih, itnenzivnih boja koja su nevjerojatno ugodni na usnama zbog dodataka vitamina A i E za dodatnu njegu. Cijena: 199kn.
Slika 6: Camera Ready BB Water s formulom lakom poput vode, za svjež i mat izgled kože cijeli dan. Umjereno prekrivanje. Idealno za ljeto. Cijena: 333kn.
Slika 7: S Studio Skin 15 Hour Wear Hydrating Foundation hidratantni i dugotrajan tekući puder za prirodno mat izgled kože cijeli dan. Otporan na promjenu boje pri raznim svjetlima (unutarnja vs. prirodna vanjska). Cijena. 329kn. 
Slika 8: U našem foto studiju u L.A. smo zamjetili kako make up artisti upotrebljavaju sjenila za potrebe ocrtavanje obrva ili kao eyeliner. I zato smo kreirali jedisntvenu formulu. Svaka od 14 mat nijansi je ujedno i »multitasker«  - dugotrajno sjenilo, intenzivni eyeliner ili prema potrebi sjenilo za obrve sa sivim podtonom. Svaka od njih se može koristiti navlažena, ako želite pojačati intenzitet boje. 
Predstavljamo vam  Photo Matte Eyes palette po cijeni od 457kn.